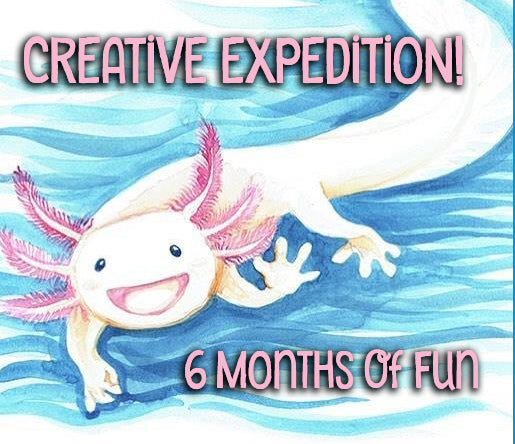 A Creative Expedition
Regular price $ 160.00 Sale
Buckle up, friends, we're going to make some art!
Expedition Starts July 1st!
This is a monthly community art-along.
I'll send you the tools and materials you need for six fun projects, published monthly (so you can take a friend along on your adventure, or expand on the project). Watch the videos and follow along live via Zoom, or catch the recording in your own time, and post to the community.
You don't need to be an artist to have fun making art
Just have a willingness to play, and the ability to follow simple instructions (use this color, make this shape here, make that shape there, add a few lines, and boom! A fox in a scarf!) 
Your welcome box will contain some of my favorite supplies for playing with art, a passport, and a sheet of stickers for your passport book. If you complete your passport (finish 12 projects), I'll send you an exclusive gift!
This would make a great Mother's Day present, especially for moms who forget to take a little time for themselves. 
So it's a subscription box?
Imagine one of those monthly subscription boxes where you get a few neat tools to try, but also you get a subscription to instructional videos where I will lead you through a design step-by-step. So if you're not overly creative or "artsy"but you want to play with the fun tools, you can do that and have something lovely at the end.

I'll make a hashtag so you can see your fellow art-a-longers work

I also want to make a passport because I like sticking stickers in books :) So when you start, your welcome kit would come with a couple of foundational things (a little watercolor kit and a brush, and the passport). If you do a year's worth of projects in a row (and you'd be on your honor to report this to me), I'd send a little bonus goodie at the end to celebrate your achievement.

I want it to feel like a proper club.

What kind of designs/Themes will the projects have?
Animals, of course! 
You'll have enough materials in the Welcome Box to do the project on your own, or with a friend, and then experiment and go wild with the other materials.
I already have a ton of art supplies, though
Cool, you can choose the DIGITAL ONLY subscription, and get access to the videos and community, a PDF with details about the project, and a materials list if you're interested in playing along with the same tools. I'll send you the passport regardless of which you pick!